I'm having so much fun making new decorations for each holiday and this is my latest creation inspired by the book
Mod Podge Rocks!: Decoupage Your World
I made for 4th of July.
This wreath was one I originally covered in tiny pine cones and it had lost a few so I decided to recycle it into a new one for summer.
It didn't take long to peal off all the pine cones. I went to the fabric stash and gathered up some red, white and blue fabrics. This wreath project featured in
Mod Podge Rocks!
was my inspiration.
I liked how cheery it was and the wrapping and decoupage seemed like it would work great with fabric.
I pinned my fabric strips in place and then spread on the
Mod Podge
to the front and sides. The pins had the added benefit of keeping the wreath elevated. Talk about a crafting twofer!
After the
Mod Podge
was dry on the 3 sides I spread it on the back taking the pins out as I went and smoothing down the fabric ends.
All that was left to do was glue a few toy army men on and wrap the wreath with a bit of star spangled wire.
If customizing your world by decoupaging with
Mod Podge
is your thing you will truly be inspired by the book: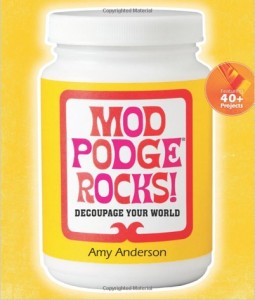 Mod Podge Rocks!: Decoupage Your World
by
Amy Anderson
More about the book from Lark:
"
Since 1967, crafters have entrusted their most treasured creations to Mod Podge--the number one, all-in-one glue, sealer, and finish product that's water-based for easy cleanup and totally non-toxic. The popularity of Mod Podge continues to grow, as does its product lineup that now includes Sparkle, Outdoor, Dimensional Magic, and Fabric formulas.
Mod Podge Rocks! features over 40 simple, inexpensive decoupage projects that showcase the versatility of this celebrated product. Contemporary, fun, and welcoming--just like author Amy Anderson's popular Mod Podge Rocks! website-the book includes everything from home accessories and holiday décor to wearables and jewelry. Joining Amy herself as guest project designers are some of the hottest names in crafting, such as Cathie Filian and Candie Cooper. A basic section outlines the simple techniques, and each project features beauty shots, easy-to-follow instructions, and how-to photos.
"