Today's post is so special! It is the first one that includes a home movie or as they call it now- a video. I'm not really
thaaaat
old but, this is one I shot myself and it makes me smile. It was inspired by a project from the book
Eco Craft: Recycle Recraft Restyle
.
Watch the colors change!
Here is a shot of my broken windshield glass filled shot glass on a changing light base with the lights on.
I had so much playing around with different vases, amounts of glass combos. I tried some marbles in the mix too.
In case you were wondering, because I know you were, "where does one get broken windshield glass?" Well, I am probably one step away from being a hoarder. I saved it from my very first car! I filled a bottle with it even back then (I was 16) because I thought it was pretty and I have had it ever since. The fabulous part of this story, for me anyway, was that I could FIND it! I think that's what keeps me from the official "hoarder" status, that I know what I have and can find it. Because, let's face it, I don't think everyone has a broken windshield glass from the car they drove when they were 16 department in their house.
But as the wonderful idea from
Eco Craft: Recycle Recraft Restyle
shows, you can use much more readily available bits of glass to make a bottom lit bowl of glass. There are such wonderful and inspiring modern recycled craft projects in this book. If you want to win a copy pop on over to Recycled Crafts at Craft Gossip.com and leave a comment.
More about the book from Lark: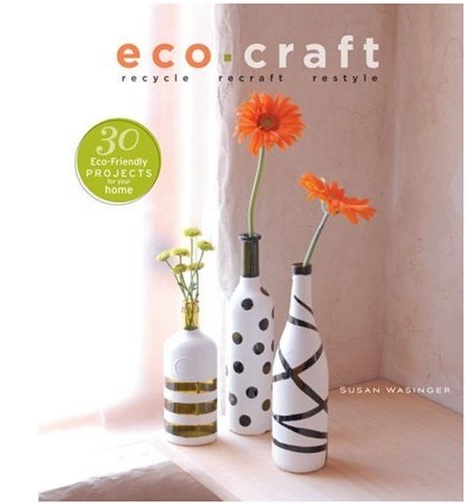 Eco Craft: Recycle Recraft Restyle
by
Susan Wasinger
"Who knew taking care of the planet could look so good? Eco Craft shows how, with 30 truly beautiful home décor projects that elevate environmental consciousness to stylish new heights. Every idea is amazingly clever: who would ever have imagined that plastic six-pack can holders could become a chic Moorish-inspired filigree tri-fold screen? Or that glass baby food jars would make a charming candle chandelier? Every project features at least one beauty shot in a modern home setting, easy-to-follow instructions, and step-by-step color photos, while handy icons spotlight the key techniques, materials, and the estimated time to complete each project."
Oh and if you want to WIN a copy pop on over to Recycled Craft Gossip.com to leave a comment to enter!